Direct drive motor
High-torque direct drive motor.
Regenerative braking - When you brake you recharge a battery back.
Water resistance.
Silence.
AIRLESS WHEELS
AIRLESS technology used in space industry.
Shock absorbing rubber.
High adhesion pattern.
Aluminium core.
BATTERY MADE IN EUROPE
JETSURF RACE model Battery Pack brings battery capacity of  650Wh (15 Ah) and charging time of 2,5 hours. This option secures up to 40km of fun and maximum speed of 50 km/h.
JETSURF CONNECT
Every board has own inique serial number which is loaded into the NFC chip for board identification and smooth pairing with the JETSURF Mobile app.
DOUBLE KINGPIN TRUCKs
High stability, high turning radius, great carving experience.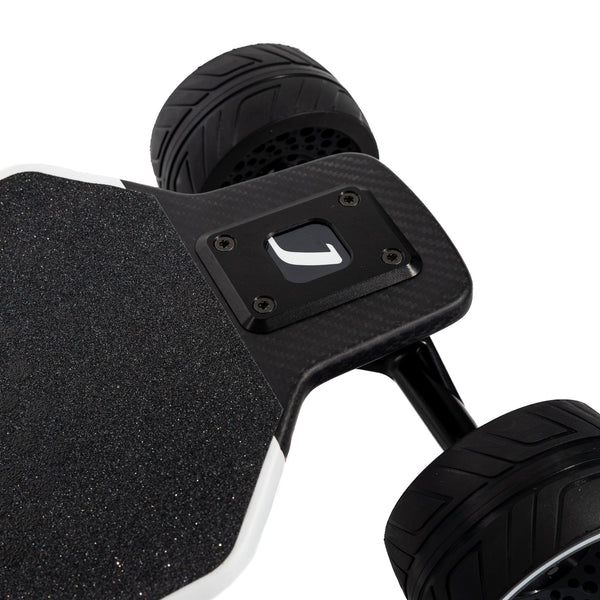 Focus on every detail
When we design a product we focus on every detail to ensure best premium experienc from the product.
EASY CHARGING
Charge your board anywhere you go. Thanks to the our compact charger size you can easily carry that everywhere you need.
Charging is piece of cake. Just plug the charger in stadard socket same as you do with laptop or phone and you are done.
DESIGNED AND ASSEMBLED IN EUROPE
RACING CARBON FIBER DECK
The RACE model doesn't lose anything from the DNA of JETSURF family. RACE deck was designed to give you high stability in high speeds and at the same time keep perfect comfortability and level of safety, the JETSURF RACE model is available with full carbon fibre deck with elegantly integrated battery and electronic.
REMOTE CONTROLLER
3 speed modes - beginner, eco, sport.
Smooth acceleration and braking control.
Integrated display.
Anti slip surface.
Technical details
DIMENSIONS
| | |
| --- | --- |
| LENGTH | 100 cm / 39.4 inches |
| WIDTH | 25 cm / 9.8 inches |
| HEIGHT | 3 cm / 1.2 inches |
| WEIGHT | 11.5 kg / 25.3 lbs |
| MAX LOAD | 120 kg / 265 pounds |
ENGINE
| | |
| --- | --- |
| TYPE | Electric Direct Drive |
| BRAKING | Regenerative Brakes |
| HILL CLIMBING | Up to 30% grade |
| TOP SPEED | 50 km/h / 31.06 mph |
DRIVE UNIT
| | |
| --- | --- |
| RIDE MODES | 3 speed modes + reverse mode |
| SYSTEM | 12S High Voltage and High Efficiency Electronic System |
BATTERY PACK
| | |
| --- | --- |
| BATTERY CAPACITY | 650Wh (15 Ah) |
| VOLTAGE | under 50 V |
| CHARGING TIME | 2,5h |
| RANGE | 40 km / 25 miles |
PREMIUM COMPONENTS
| | |
| --- | --- |
| WHEELS | Airless 120mm |
| TRUCKS | Dual Kingpin |
| DECK | Premium Carbon fibre |